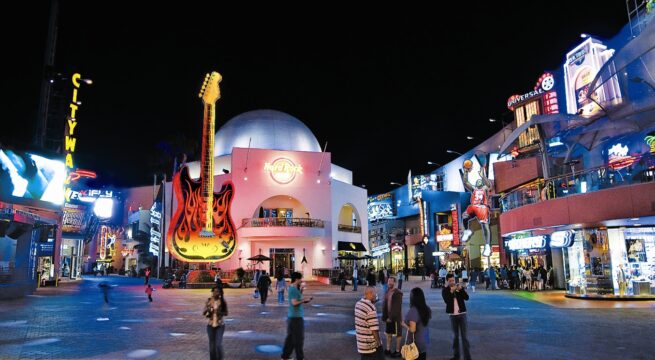 WE ASKED four Australian travel and tourism heavyweights to cast their minds towards 2013.
What challenges are facing the cruising, hotel and airline industries? Is our service up to scratch? What infrastructure is urgently required? And where will they be holidaying this Christmas?
Here's what Carnival Cruise Lines Australia chief executive officer Ann Sherry, Federal Tourism Minister Martin Ferguson, Jetstar Australia and NZ chief executive officer David Hall and Accor Pacific chief operating officer Simon McGrath had to say.
— Simon McGrath —
Chief operating officer Accor Pacific

– Where did you holiday as a child?
SMcG: Avoca Beach on the NSW Central Coast. I still remember that the summers always seemed to be hot and I never wore any shoes.
– What are your key challenges in 2013?
SMcG: We took over the Mirvac hotel portfolio (Quay West, Sebel, Sea Temple, Citigate) this year and we have already integrated several of them into the Accor network but there will be plenty more to do in 2013 to ensure the whole group is a seamless part of Accor.
The arrival of the Mirvac hotels will, in particular, see our Pullman brand become one of Australia's largest 5-star brands. It is a brand with a very rich pedigree in luxury travel, but still relatively unknown in Australia so that will be a key objective in 2013.
– How will you solve them?
SMcG: Launching a new brand, regardless of how much history it has, is not easy, but when we launched Novotel in Australia 21 years ago, people thought it was a new telephone company. So it's amazing how quickly perception changes when you have critical mass. The Pullman name is about to go from just three hotels to almost a dozen in less than a year.
– Will business grow, remain static or decline?
SMcG: There's always so much talk about the high Australian dollar destroying domestic travel and stopping people coming to Australia for holidays, but that just isn't true.
We have strong arrivals from Asia, and that will continue.
The short-break market in Australia is incredibly strong, with Saturdays now the busiest night in Sydney, and corporate travel remains buoyant. Of course, it is impossible to predict global economic conditions and that does have a profound effect on hotel performance, but the signs for 2013 are very positive.
– If money were not an object, which one product from your company would you recommend?
SMcG: Internationally, Sofitel Metropole in Hanoi offers that complete package of history, atmosphere and incredible cuisine, though for a slice of the best in modernity, I couldn't go past a stay at Sofitel So Bangkok, which has Christian Lacroix design and a decadent "luxe" feel.
Here in Australia, my first choice would be Ayers Rock Resort. For once, the word "unique" truly applies. It is both spiritual and a great adventure.
– What travel trends do you see over the next five years?
SMcG: The rise in the "leisure commuter". Only 10 years ago, getting on an interstate flight was a big thing for most people. You might fly interstate for a wedding or very special occasion but today people might fly interstate five, even 10, times a year to attend a sporting match, see a show, try a new restaurant or meet friends.
It has totally changed the dynamics of leisure travel in this country, and that will become an even stronger trend as cities and states build up their events portfolio.
– How do you rate service in Australia's tourism industry?
SMcG: I think that when we deliver service right, Australian service, with its genuine, quirky nature, can't be bettered. But laid-back has to be combined with professionalism, and that's why there needs to be much more investment in training and development of people in our industry.
Accor had led the way in this arena with the establishment of our own registered training organisation, Academie Accor, but as an industry I think we still have a long way to go. We can't just treat every visitor the same.
Chinese visitors need special services to show that we understand their needs and respect their culture.
We have introduced Optimum Service Standards for Chinese and Indian guests because these are growth markets and we want to develop these markets.
– Name the most crucial piece of infrastructure needed to assist the tourism industry.
SMcG: Investment in state-of-the-art conference and exhibition centres. NSW was far too late in upgrading their facilities, to the point where the new NSW Government had no alternative but to close the existing facility and totally rebuild, whereas Melbourne kept on building and developing their event facilities and they are set to benefit enormously from that investment.
Cities need to aim for massive events, conferences and exhibitions, which in turn needs serious investment by governments into positive measures to encourage these events.
The Victorian Government paid $2 million for Tiger Woods to appear in their PGA tournament and that helped inject $13 million into the local economy.
A new Sydney Airport would also help tourism considerably.
– What are your new offerings for 2013?
SMcG: We will be launching a number of 5-star Pullman hotels in 2013. They will be the re-branding of existing hotels, but we will be offering Pullman hotels and resorts in key city and resort locations around Australia. One of them, Pullman Brisbane King George Square, will be launched as a result of a complete overhaul of what was the former Sebel hotel.
In Sydney, Pullman Hyde Park will complete its full renovation in early 2013, as will the Sebel Melbourne Albert Park, which will relaunch as a Pullman early next year.
– What is your advice for dealing with jetlag?
SMcG: I go for a run when I arrive at the destination. It not only blows away the cobwebs, it's a great way to see a new destination.
– What are your travel plans for the Christmas holidays?
SMcG: Hamilton Island with my children and a group of friends.
****
— David Hall —
Chief executive officer Jetstar Australia and New Zealand
– Where did you holiday as a child?
DH: My family travelled around a lot when I was young Queensland was a favoured destination for summer holidays.
Three boys in the back of the Kingswood for two days from Melbourne to the Gold Coast must have been quite an experience for my parents. We stayed in motels along the way, mostly near the beach.
– What are your key challenges in 2013?
DH: In these tougher economic times, our customers are more price-conscious and travel-savvy. We are seeing increased competition on domestic routes, across the Tasman and on our long-haul flights into Asia and Hawaii.
– How will you solve them?
DH: It is crucial we hold true to Jetstar's values of offering low fares and delivering exceptional customer service. We know that our low-fares model stimulates demand there are more people travelling, more often, to more destinations, more affordably than ever before.
The Qantas Group has successfully created and deploys the two-brand strategy, which has transformed travel in the Australian market.
The model is now being rolled out to great effect throughout Asia. It has paved the way for Jetstar Japan (our venture with JAL and others), Jetstar Pacific (the Qantas Group's partnership with Vietnam Airlines) and we are all very excited about our newest venture, Jetstar Hong Kong, with China Eastern Airlines, beginning next year.
– Will business grow, remain static or decline?
DH: We are seeing strong demand domestically, particularly along the eastern seaboard. Aussies love to travel and we know that we've been able to create new markets and offer thousands of Australians the opportunity to fly for the first time.
– What travel trends do you see over the next five years?
DH: More and more, we are seeing many Australians change their traditional holiday plans and have more mini breaks instead of the big trip once a year.
Customers can fly over to New Zealand for the weekend and still be back for work and school on Monday. I expect that we will continue to see the growth of the independent traveller. Low-fares airlines like Jetstar give people the opportunity to fly to destinations often for less than the taxi ride to, or parking at, the airport.
– How do you rate service in Australia's tourism industry?
DH: I think the Australian tourism industry should be proud of what it has achieved both in attracting international visitors and creating memorable experiences for the domestic traveller. The industry must continually adapt to travel trends and innovate to promote their offering.
Domestic and international travellers have a right to expect good value for money, friendly and helpful service and a positive experience. There are so many fantastic tourism operators right across Australia who every day work hard to showcase our amazing country. We cannot be complacent, every interaction must be a memorable one great value, great experiences and great service will ensure travellers return and remain advocates for Australia.
– Name the most crucial pieces of infrastructure needed to assist the tourism industry.
DH: Airport infrastructure that facilitates a speedy, easy and hassle-free experience. Investment in accommodation that caters for different types of travellers, from backpackers to families to those seeking a luxury experience.
The lower the fares, the more travellers have to spend at their destination there is a noticeable shortage of differentiated accommodation catering to the market.
Signage, language and training to support and welcome our Asian neighbours: familiarity and a sense of welcoming will encourage return visits.
– What are your new offerings for 2013?
DH: Jetstar will be the first low-cost carrier in the Asia Pacific to operate the Boeing 787 Dreamliner next year.
The customer experience will be enhanced by increased humidity (about 15 per cent higher), improved air filtration and passenger windows up to 65 per cent larger. Another benefit of the 787 is 20 per cent less fuel consumption compared to similar-sized twin-engine aircraft, making it more environmentally friendly.
– What is your advice for dealing with turbulence and jetlag?
DH: Always follow the advice of your captain and crew they are there to ensure your safety. I find on long-haul flights it is wise to drink plenty of water, move around, some in-seat exercise and adjust to the time at your destination.
– What are your travel plans for the Christmas holidays?
DH: Christmas and New Year is our busiest time of the year so I may not venture too far, but if I can grab a few days, we plan to head over to Hawaii on our new non-stop service from Melbourne to Honolulu.
***
— Martin Ferguson —
Federal Minister for Tourism
– Where did you holiday as a child?
MF: Camping holidays with my family in NSW.
– What are your key tourism challenges in 2013?
MF: Australia's key challenge is to remain a competitive destination for the growing number of Asian travellers from places like China and India.
Countries across the region, and indeed the world, have their eyes on the same market so Australia faces some stiff competition to attract Asian visitors to our beaches rather than Vietnam's, and to Melbourne or Sydney over New York or Paris.
At the same time, with the number of visitors from traditional markets in Europe, North America and Japan waning due to economic woes overseas and the high Aussie dollar, Australia faces a challenge in maintaining our share of these visitors who are so important to our tourism industry, particularly in regional Australia.
– How will you solve them?
MF: To ensure Australia can attract more international visitors to our shores, and help encourage more Australians to holiday at home, it is about more than just marketing Australia through advertising. We need to offer the best quality tourism experiences.
That means we need more quality hotels and better service, which we will get through training and ensuring the industry has access to skilled labour.
The Government is encouraging investment in Australia's tourism sector through Tourism Australia's investment guide, a strategic alliance with Austrade, and we are devoting millions of dollars through programs such as the national Workforce Development Fund to support training for the tourism and hospitality industry.
– What travel trends do you see over the next five years?
MF: Australians will continue to travel overseas with the advent of low-cost airlines and change in preferences. But we are seeing a slowing in the growth of outbound Australians, and a recent boost in domestic visitation suggests we have turned a corner in terms of encouraging more Australians to holiday at home.
The most important trend for Australian tourism is the growing number of Asian, particularly Chinese, visitors, with predictions of 100 million Chinese travellers in 2020 Australia is aiming to attract one million of those people. In the past 12 months, almost 600,000 Chinese visited Australia, and it is already our most valuable market in terms of spend. By the end of this year, we will see China overtake the UK to be our second-largest source of visitors.
It is important for the industry to be "China ready" and cater for this growing market, which will be so lucrative for Australian tourism businesses in the future.
– Name the most crucial pieces of infrastructure needed to assist the tourism industry.
MF: I do not subscribe to a "build it and they will come" philosophy, but any constraint to accommodating more visitors needs to be addressed.
To improve Australia's ability to attract more visitors, we need more hotels in places with high occupancy rates, such as Perth, and a second Sydney airport in coming years to boost aviation access to Australia, given that 99 per cent of international visitors arrive by plane.
– What is your advice for dealing with turbulence and jetlag?
MF: Not much you can do about turbulence. As for jetlag: sleep!
– What are your travel plans for the Christmas holidays?
MF: I am looking forward to hopefully getting down to Tasmania with my family to enjoy the spectacular scenery, food and wine.
***
— Ann Sherry —
Chief executive officer Carnival Cruise Lines Australia
– Where did you holiday as a child?
AS: Burleigh Heads on the Gold Coast, which was just a paradise for kids. The headland national park had a koala colony and koalas would visit our yard. There was often a circus in the park across the road at Christmas so we occasionally had elephants in the yard as well. I also loved the beach and rock pools at Burleigh.
– What are your key challenges in 2013?
AS: As always, the focus will be driving demand for cruise holidays after seven consecutive years of double-digit annual growth, along with the need for workable infrastructure to ensure this growth can be managed and delivered, particularly in Sydney, the cruising gateway to Australia.
– How will you solve them?
AS: Cruising is all about customer experience so word of mouth is vital, combined with our messages on the value of a cruise holiday with the amazing on-board service and destinations on offer, and with every market segment catered for.
On infrastructure, I'll continue pressing government and port authorities to lift their focus and commercial support for cruising and the economic benefits it delivers.
– Will business grow, remain static or decline?
AS: Cruising will grow and continue to be the standout success of Australian tourism.
– If money was not an object, which product from your company would you recommend?
AS: We are creating new destinations and great passenger experiences. I'd recommend Seabourn's recently announced cruises to Antarctica or a P&O cruise to Papua New Guinea's beautiful Milne Bay area next year. Both are incredible destinations.
– How many cruises have you been on since joining Carnival?
AS: I've cruised many times and to many places around the world. I love the Pacific Islands cruises; going to places such as Mare, which P&O Cruises added as a new destination this year. Cruising to Alaska was also fantastic, as was sailing up the Queensland coast accompanied by a pod of whales.
– What travel trends do you see over the next five years?
AS: Even in these tougher economic times, passengers still want great holiday experiences but they also expect value for money that's a key requirement.
More and more passengers will be coming back for their second or more cruise so there will be a passion for more exotic destinations.
Increasingly, travellers want to engage with people in the places they visit and South Pacific island communities, in particular, are responding in this regard.
– How do you rate service in Australia's tourism industry?
AS: There are some amazing experiences and service offerings but it is a bit uneven, that's the issue. From the customer experience point of view, service delivery needs to be consistently fantastic. Cruise season brings thousands of international travellers who are looking for the wow factor.
– Name the most crucial pieces of infrastructure needed to assist the tourism industry.
AS: Sydney and Brisbane have the unenviable distinction of being among the Top 5 most expensive ports that we visit in the world, but both ports have infrastructure challenges that need to be addressed if Australia is to benefit from the full potential of cruise industry growth.
– What are your new offerings for 2013?
AS: P&O returns to Papua New Guinea from October next year and, more immediately, Queen Mary 2 circumnavigates New Zealand following the runaway success of its circumnavigation of Australia this year. Seabourn's Antarctic cruises are new and Princess has more Asian itineraries.
e
AS: I'll be heading to another favourite place, Stradbroke Island off Brisbane, for a family Christmas, and then a week cruising in the Caribbean to see what is on offer and to make sure our region is offering a great cruising alternative.

Don't miss the stories
followNagpurVision
and let's be smart!
Loading...
You need login to vote.
Leave a Reply